Cable Safety Lock
PN: CSL-002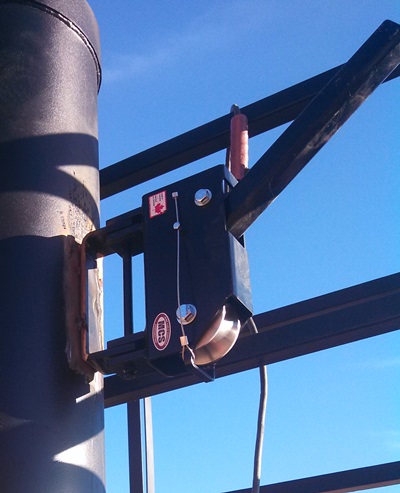 Forming part of the Mine Cable Services cable crossover system, the Cable Safety Lock is a safety device necessity to assist mine site personnel in hoisting the strain relief and cable to the top position of cable towers at road crossing points. Heavy Duty steel construction and automatic braking / locking mechanism have provided dependable operation in the field for over 20 years and has now been redesigned and undergone rigorous testing for formal certification of tension limits.
Designed to weld or bolt directly onto to your cable towers. The rear hinge freely pivots 180° left to right to accommodate movement in the rope's direction during hoisting and lowering operations.
Certified tested to hold a load of 1600 pounds ( FOS x 3) when installed correctly, with the appropriately sized hoisting rope.
Additional Information:
Recommended Rope specifications: 7/8" – 1" diameter fiber rope – Cotton / Nylon / Polyester. Rope requirements will vary according to mine site conditions*
Recommended for use with Cable Safety Lock: Cable Handling Grabs for hoisting: (Click here to go to webpage).
Overall Cable Safety Lock Weight & Dimensions:
Use the chart below to choose the correct part number to match your cable diameter.
REQUEST A QUOTE
For Best Price & Services