Vulcanizing Cable Repair Equipment
Vulcanized cable repairs are recommended for all permanent cable repairs on all mining and flexible rubber jacketed, shielded or unshielded power cable. Mine Cable Services manufactures and offers a variety of cable vulcanizers to best suit your operation's requirements, including portable units and in-shop units, each with features and options appropriate to different types of cable repair applications. The finished result of each type of vulcanizing equipment is a similar diameter, flexibility, and durability as the original cable, as all cable conductor, insulation and jacket properties have been repaired and rebuilt. A system of vulcanized cable repairs enables the repair of a wide variety and type of cables up to 35kV.
Hydraulic Vulcanizer, Model 4800HD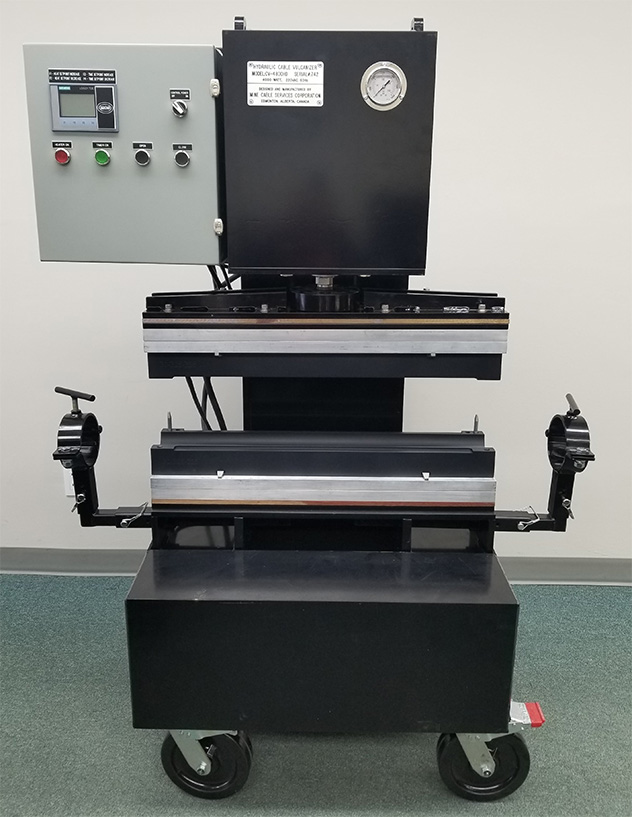 Designed as an in-shop unit, the Hydraulic Vulcanizer uses aluminum compression molds sized for each cable diameter and type of cable repair to be completed. The hydraulic vulcanizer is supplied with upper and lower heating platens, applying heat to the top and bottom halves of the aluminum, Teflon coated molds. The heating cycle is controlled by a built-in timer and heating control system without automatic shut off, reducing overcooking of your repaired cable. The Hydraulic Vulcanizing unit is the preferred equipment for the repair of CPE jacketed cable.
The upper platen and top half of the aluminum mold is raised and lowered by a hydraulic ram system, eliminating the need for repair technicians to physically handle hot molds. Each hydraulic vulcanizer features extension arms in line with the cable repair molds, helping to further secure your cable from shifting during the vulcanizing process. MCS offers a heavy duty rolling stand for each hydraulic vulcanizer to provide easy portability within your cable repair shop, allowing movement of the vulcanizer to your cable, rather than moving your cable to your vulcanizer.
Vulcanizing Oven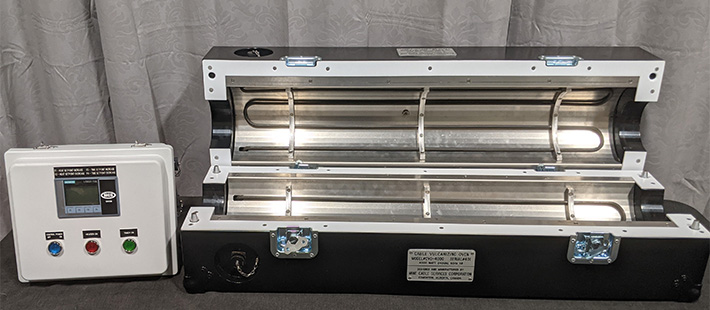 The MCS Cable Vulcanizing Oven is designed for easy portability and repair of a variety of cable types and diameters in one unit, up to 40" overall length. Similar to the traditional vulcanizer/mold system, the Cable Vulcanizing Oven replaces aluminum compression molds with a series of sacrificial pressure tapes maintaining pressure while the cable is vulcanizing and curing. Cable repairs completed with the MCS Vulcanizing Oven result in a concentric, balanced cable repair without thin spots, maintaining waterproof and rugged properties of the original cable specifications. Vulcanizing ovens are the preferred industry standard equipment for the repair of TPU jacketed cable, and cables including fibre optics, especially in applications where finished cable diameter is critically important with a tight tolerance, such as on monospiral reels of container port and forestry crane operations.
The Cable Vulcanizing Oven acts as its own storage and transportation case, providing easy portability from the shop to the field and back again. Control box and connection wires are stored in their own rugged transportation case, offering protection from damage and dust. The Vulcanizing oven has 4000 watt output and requires 220V, single phase, 60Hz input.
Cable Vulcanizing Oven Product Data Sheet
Portable, Manual Cable Vulcanizer, Model CV-3000
Designed as a portable field unit, the MCS Portable Cable Vulcanizer is the perfect piece of equipment to take to your damaged cable in the field to complete your repair quickly, reducing the time and costs of machinery downtime. Similar to the Hydraulic Vulcanizer, the Portable Cable Vulcanizer uses Teflon coated aluminum compression molds sized to your specific cable diameters in use at your operation, producing cable repairs with similar cable diameters as the original cable specifications.
Manufactured with both upper and lower heating platens, applying equal heat to the top and bottom halves of the aluminum molds, the heating cycle is controlled by a built-in timer and heating control system without automatic shut-off. The MCS Manual Cable Vulcanizer produces 3000 watts, and requires 120/240V, single phase, 60Hz input. This vulcanizer is best used to repair mining cables with a rubber, CPE jacket, using the industry standard method of rebuilding the cable properties under controlled pressure and temperature conditions.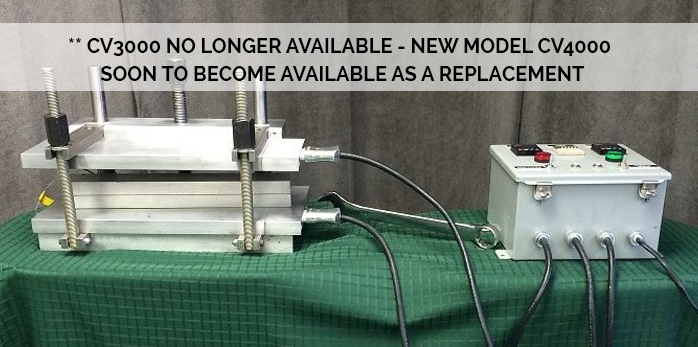 ** CV3000 NO LONGER AVAILABLE - NEW MODEL CV4000 SOON TO BECOME AVAILABLE AS A REPLACEMENT
Portable Cable Vulcanizer Product Data Sheet
Recommended Additional Cable Repair Equipment & Tools Please contact your MCS representative for further details
Heavy Duty Cable Repair Bench
Designed specifically for electrical cable repair with proper height and width
Cable clamps on each end hold your cable securely in place during repair process
Cable clamps swivel down and away from the cable to allow for easy relocation into cable vulcanizer
Fully collapsible and portable for field work when required
Please contact MCS for further information
Cable Repair Materials & Supplies
Neoprene, Hypalon, and TPU Jacket Repair Tapes
Silver Soldering Equipment and Supplies
Cable Preparation Kits
All types of materials required to rebuild internal properties of a variety of cable types
Click here for more information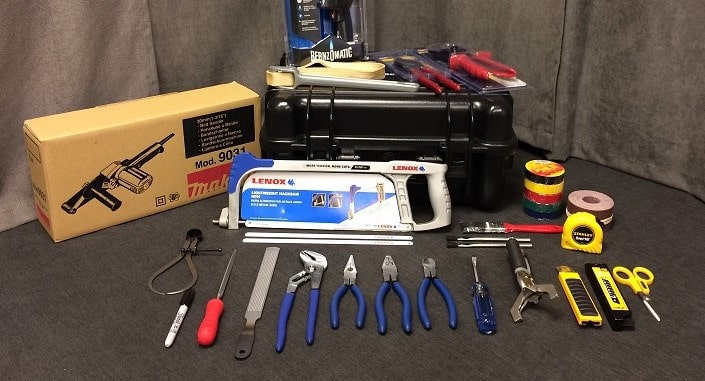 Cable Repair Tool Kit, CRTK-02
Designed with your cable repair technicians in mind - all the tools required to complete a standard cable splice repair
*As MCS is continually improving products offered to its clients, items included may not be exactly as shown above, please contact your MCS representative for further details.
Please contact MCS for further information
REQUEST A QUOTE
For Best Price & Services